University of Washington
Diagnostic Radiology Anatomy Modules
TMJ MR
---
Magnetic resonance (MR) can also be used to diagnose internal derangement and other disorders of the TMJ. The patient is scanned in the sagittal plane using a surface coil and a high resolution technique. The low intensity cortex of the condyle surrounds the high signal fat in the marrow. The meniscus is a low intensity structure which is attached posteriorly by the intermediate intensity bilaminar zone. Normally, the anterior band lies immediately in front of the condyle. The junction of the bilaminar zone and the meniscus normally lies at the superior aspect of the condyle.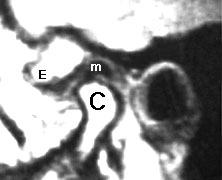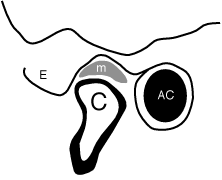 normal TMJ MR showing normal meniscus (m) posterior and superior to condyle (C) -- the articular eminence (E) and auditory canal (AC) are also shown
In internal derangement, the meniscus is abnormally positioned anterior to the condyle.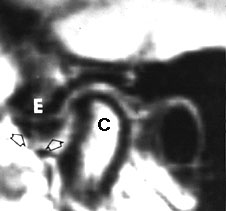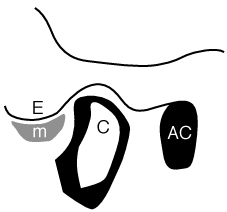 displaced meniscus (arrows, m) anterior to the condyle (C) and auditory canal (AC) and beneath the articular eminence (E)